The One Fine Day bouquet from Teleflora encompasses all the elements of a perfect flower arrangement. The vibrant spring colors are absolutely stunning and make this bouquet truly unique. With its bountiful blossoms and beautiful colors, even the most mundane day can be transformed into an exciting [...]
Add To Cart
Add 8 Balloons for $42.95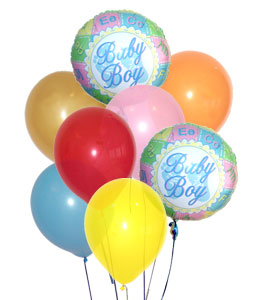 The One Fine Day bouquet from Teleflora encompasses all the elements of a perfect flower arrangement. The vibrant spring colors are absolutely stunning and make this bouquet truly unique. With its bountiful blossoms and beautiful colors, even the most mundane day can be transformed into an exciting [...]
The One Fine Day bouquet from Teleflora encompasses all the elements of a perfect flower arrangement. The vibrant spring colors are absolutely stunning and make this bouquet truly unique. With its bountiful blossoms and beautiful colors, even the most mundane day can be transformed into an exciting [...]
The One Fine Day bouquet from Teleflora encompasses all the elements of a perfect flower arrangement. The vibrant spring colors are absolutely stunning and make this bouquet truly unique. With its bountiful blossoms and beautiful colors, even the most mundane day can be transformed into an exciting and fun experience. This bouquet is the perfect way to brighten someone's day and make them feel truly special.

This enchanting bouquet is both sweet and petite, and the colors and overall look are truly breathtaking. It features a mix of colorful spring flowers, including a spring mix of roses and tulips, as well as fresh blossoms in a range of cool hues such as yellow, pink, chartreuse, and lavender. The flowers are arranged in a beautiful symmetry and nestled in a modern glass cube vase, completing the perfect look.

To complement the richer tones of this bouquet, we've added in some lavender matsumoto asters, cushion spray chrysanthemums, carnations, and button spray chrysanthemums. This adds depth and texture to the bouquet, completing the overall look and feel.

No matter the occasion, the One Fine Day bouquet from Teleflora is an excellent choice. Whether it's for an anniversary or birthday, this bouquet will add a pop of color to any party. If someone you love is in the hospital, sending them this stunning bouquet is sure to make them feel better. It is also a great choice for bridal showers and baby showers, adding a touch of color to any venue.

Our local florists in Canada and the United States are ready to send the One Fine Day bouquet to your loved ones with love. We offer same-day delivery and can also accommodate advance orders to meet your specific requirements. Book your One Fine Day bouquet today and make someone's special day even more special.
Item No. T147-2A
Price: $74.95