On their special day, everyone desires to look their absolute best. For a bride, every detail, from her clothes to the minutest accessories, must be tailored to her liking. Since all eyes will be on her during the wedding, everything must be customized to suit the lady of the evening.

Du[...]
Add To Cart
Add 8 Balloons for $42.95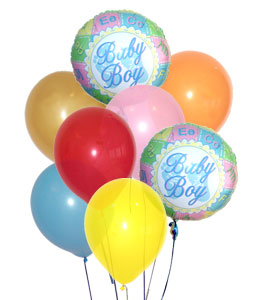 On their special day, everyone desires to look their absolute best. For a bride, every detail, from her clothes to the minutest accessories, must be tailored to her liking. Since all eyes will be on her during the wedding, everything must be customized to suit the lady of the evening.

Du[...]
On their special day, everyone desires to look their absolute best. For a bride, every detail, from her clothes to the minutest accessories, must be tailored to her liking. Since all eyes will be on her during the wedding, everything must be customized to suit the lady of the evening.

Du[...]
On their special day, everyone desires to look their absolute best. For a bride, every detail, from her clothes to the minutest accessories, must be tailored to her liking. Since all eyes will be on her during the wedding, everything must be customized to suit the lady of the evening.

During life's most beautiful moments, it becomes an inner desire to look the most captivating. Steal the Show by Teleflora is the perfect choice for a bride who wants to achieve just that. This bouquet is a stunning collection of the most enchanting and captivating flowers that will truly become the highlight and showstopper of the event.

If someone close to you is getting married, make sure they walk down the aisle with this divine bouquet and truly steal the show. Teleflora has arranged beautiful purple lavender roses that symbolize the celebration of love blooming between two people, the ever-gorgeous Peruvian lilies (alstroemeria) that complement the convivial atmosphere, and the dark purple larkspur reflecting the profound vows between two soulmates.

However, the list of beautiful flowers doesn't end there. Steal the Show seems to incorporate all of life's festivities into a single bouquet, as the more you look at it, the more beautiful it becomes. Fresh freesia with the softest petals, matsumo asters radiating a mythical charm, and splendid, shrubby limoniums are next in line.

These are joined by powder pink snapdragons, petite and delightful purple monte cassino, and lastly, the pastel purple statice that complete this charming lavender bouquet.

A wedding is just one occasion where Steal the Show by Teleflora can shine magnificently. It is a wonderful choice for many other events, such as a homecoming party, a baby shower, a small, intimate engagement, or even a tasteful addition to your interior.

All our local florists nationwide offer same-day delivery for these flowers.
Item No. T49-1A
Price: $104.95